Receipe for Fresh beer Pasta with Philips Pasta Maker
Ingredients:
-482 gr of semola
-155 gr of beer (a double IPA or an Imperial Stout)
Time

Preparation: 15 min + 30min
Cooking time: 5-7 min

Assemble your Avance die on the Pasta Maker
Put the semolina into the Pasta Maker

Gradually add the cold beer.

Knead for 6 minutes.

Let the dough rest for about 30 minutes.

Extrude your shapes with Philips Pasta Maker.

Cook Pasta in boiling salted water.

Drain Pasta, season it and enjoy.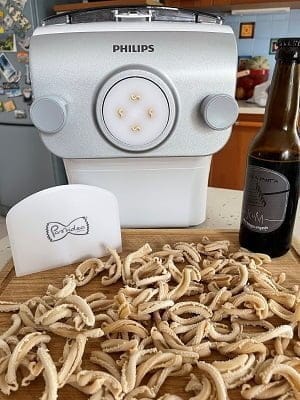 Tips for seasoning:
In order to try this recipe from NewPort Pasta Co., we have created an ad-hoc recipe.
We make a stir-fry with carrots, celery and onions. We stew it in olive oil until it is well coloured.
Then we shell a fresh sausage and cook until the fat is dry and firm. When you add the sausage you can add herbs such as sage. At this point we deglaze with a Stout beer and let it evaporate.
We season the pasta directly in the pan where we cooked our sauce. And we stir for a few minutes.
We drizzle in some oil. Et voilà.