Sweet Potato Gnocchi with Philips Pasta Maker
Ingredients:
-130 gr of boiled Sweet Potatos
-200 gr Semolina
Time

Preparation: 45 min
Cooking time: 3-4 min

Boil the potatos. Whole and unpeeled.
Peel the potatos, mash them and let the cool in a bowl.
Assemble the Potato Gnocchi die on your Philips Pasta Maker.

Put mashed potatos and semolina in the Philips Pasta Maker.

Knead for 6 minutes.

Let the dough rest for about 15 minutes.

Extrude your Potato Gnocchi with Philips Pasta Maker.

Let the gnocchi come out of your die for 2-3cm and cut firmly.
Cook gnocchi in boiling salted water. When they  will float on the surface of the water, wait 2 minutes. 

Drain gnocchi, season them and enjoy.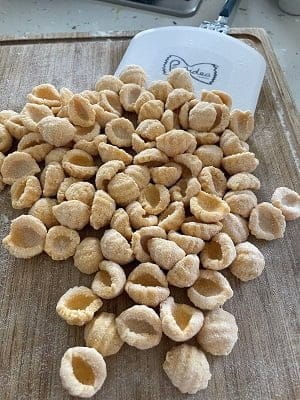 Tips for seasoning:
For sweet potato gnocchi, we recommend something tasty and contrasting.
Then, you can cut the bacon into half-centimetre strips. Cook it in a preheated frying pan until crispy. In a plate lay some paper towels and pour the guanciale on it. This will remove the excess fat. Grate a generous amount of pecorino cheese. Keep some of the cooking water.
In the pan where you cooked the guanciale, pour the drained gnocchi and add the pecorino cheese. With a spoon, gradually add some cooking water to make it creamy. Add black pepper to taste. Spicy.