Delicious Butter Biscotti with Pasta Maker
Ingredients:
-250 gr of flour 00
-5 g of baking powder
-80 gr of sugar
-95 gr melted butter
-1 egg
-grated lemon
Time

Preparation: 45min
Baking time: 15-20min

Melt the butter over low heat and let it cool.

Beat a whole egg and add it to the cooled melted butter. 

Assemble the die Biscuits on your Philips Pasta Maker.

Combine flour, sugar, baking powder and grated lemon. Put the powders into the Pasta maker.

Gradually add the liquid part to the powders.

Knead for 6 minutes.

Let the dough rest for about 30 minutes.

Extrude accompanying hand.

Let the biscotti come out and cut them to the length you prefer.
Place the biscuits on a baking tray. Bake in a static oven preheated to 180 degrees for 10-15 minutes.


When they start to brown take them out of the oven.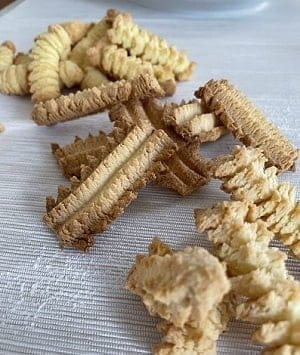 Tips for garnishing:
To make your biscuits tastier, mix some sugar with cinnamon in a dish and sprinkle it over the biscuits before baking for a Christmas-like result.
Or once baked you can decorate them with powdered sugar or dipping them in dark chocolate melted in a bain-marie.